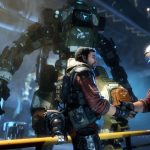 ---
Titanfall 2 Story Inspired by Terminator 2
When Titanfall was released, one of the most popular topics of discussion was its absence of a single-player campaign. However, the newest addition to the game, Titanfall 2, is ready to come out next month and is expected to have a single-player campaign mode.
Respawn Entertainment director Steve Fukuda, while writing on the game's website, made clear that a single-player campaign was planned for Titanfall 2 since the beginning of its development. Steve Fukuda said the development team made a prototype of a "typical shooter" with gameplay mechanics but that, surprisingly, "wasn't fun at all."
Respawn continued looking for a solution so they gave their designers a task to come up with an irresistible gameplay concept that is focused on the relationship between a Pilot and their Titan.
"Each week they would regroup to show and play what they made to the team," Fukuda stated in a Titanfall 2 website. "They did this for months and created over 100 action blocks (a prototype) that expressed many different ideas around traversal, puzzle solving, combat, and more. From there we narrowed down the best ideas and refined them into the single-player missions you will be playing this October. It was incredibly hard but a welcome challenge."
Titanfall 2's plot focuses on a story of Jack Cooper, a human, and BT-7274, the Titan. This Titan is special – he is a new kind of Titanfall world. He is the first one to be created by the resistance group – the Frontier Militia. The other Titans were built by a vicious IMC group.
BT is also a very smart Titan that can not only learn but also respond to what is in front of him. He also can make use of any Titan loadout in Titanfall 2 and that is quite impressive. Regarding to Fukuda, he "embodies the Militia's culture of teamwork, craftsmanship, and looking out for each other."
Human character in Titanfall 2, Jack Cooper, is a low-level rifleman for the militia who has a dream and a plan to finally become a Pilot. Luckily, captain Tai Lastimosa discovers Cooper's potential and helps him as his mentor at the beginning of the Titanfall 2. One important fact of this story is that Lastimosa gets killed in a mission to the enemy planet Typhon. So as the mission went wrong, Jack Cooper must work with his Titan BT to finish this mission successfully.
The remaining of the Titanfall 2 story shows players analyzing Typhon to learn the plans of the IMC.
"The more they (Cooper and BT) work together, the stronger the link between Pilot and Titan becomes. We drew lots of inspiration from buddy cop movies and other genres that explored the relationship between man and machine such as Terminator 2, and even earlier works like The Black Stallion," Fukuda from Respawn Entertainment said. "In the end we are very proud of the story and relationship that we're telling in Titanfall 2 and feel that as players get to know BT through the game they will develop their own bond with him as well. We know we did."
GameSpot freshly played a role of Titanfall 2's campaign, in which editor Scott Butterworth mentions the game features traces of Halo, Firewatch, and Mirror's Edge. If interested, you can find the full preview here.
Titanfall 2 will be released on October 28. It will be available for PlayStation 4, Xbox One, and PC. A new cinematic trailer for Titanfall 2 has been also released.