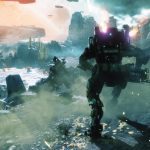 ---
Titanfall 2: PC System Requirements and Graphic Settings Announced
Titanfall 2 had a technical test in August that was not accessible on PC so some of the players were disappointed as they had no chance to see how their PC would run the newest addition of the newest Titanfall game. The makers of Titanfall 2 – Respawn Entertainment – states, that it surely was not because they lack focus on the PC version of the game.
Blog post appeared on Titanfall 2 website that shows the minimum and recommended system requirements for running Titanfall 2 on PC. They also shared many graphic options that will be applicable for it. It is quite interesting that Respawn decided to provide minimum requirements to have a solid gaming experience rather than the complete baseline to run Titanfall 2.
As the producer of Titanfall 2 Drew McCoy states in the blog post: "In the past minimum specs were literally the minimum bar to launch the game–your experience once in the game was probably not going to be ideal. Our goal for minimum PC specs on Titanfall 2 is that you can play at a 1600×900 resolution with most details turned on and average around 60 FPS."
He also underlined that players don't need to turn their setting low if they see that their system requirements are higher while launching Titanfall 2: "We strongly believe that if you at least match the posted requirements you should have an excellent visual and gameplay experience playing the game, so don't be alarmed if you boot it up and don't need to turn all the settings to Low for playable framerates–our artists would actually like if you could see their work! Because of this you will probably be able to actually run the game on a lower-than-minimum spec PC, but the quality and performance won't quite be ideal."
As McCoy commented, the recommended specs will allow players to run Titanfall 2 with nearly 1920×1080 resolution (2560×1440 is also very playable). You can also find specs that are needed to play Titanfall 2 smoothly at 4K or 60 FPS. You will find these requirements below. Respawn also shared benchmarks for the Titanfall 2 running on each of these setups (you can find them here) so players could see what to expect.
It is also known that players will have an option to run the game at up to 144 FPS, store their save and setting in the cloud, choose whether to enable or disable mouse speeding up (however, it is not always given with a PC game launch) and remap the controls. Respawn also revealed graphic settings for Titanfall 2 that include a range of v-sync and anti-aliasing options together with a support for 21:9 aspect rations. You will see all of them at the bottom of this article.
Titanfall 2 is planned to be launched on October 28. The game will be available for PC, Xbox One and PS4. If you wish, you can also take a look at Titanfall 2's new Titans here.
Titanfall 2 PC System Requirements
Minimum
Operating System: Win 7/8/8.1/10 64-bit
CPU: Intel Core i3-3600t or equivalent
RAM: 8 GB
HDD: 45 GB
GPU: Nvidia Geforce GTX 660 2GB, AMD Radeon HD 7850 2GB
DirectX: DX11
Internet Connection: 512 Kbps or faster
Recommended
OS: Win 7/8/8.1/10 64-bit
CPU: Intel Core i5-6600 or equivalent
RAM: 16 GB
HDD: 45 GB
GPU: Nvidia Geforce GTX 1060 6GB, AMD Radeon RX 480 8GB
DirectX: DX11
Internet Connection: 512 Kbps or faster
Ultra 4K60
OS: Win 7/8/8.1/10 64-bit
CPU: Intel Core i7-6700k or equivalent
RAM: 16 GB
HDD: 45 GB
GPU: Nvidia Geforce GTX 1080 8GB
DirectX: DX11
Internet Connection: 512 Kbps or faster
PC Video Options
Anti-Aliasing: None, TSAA, MSAA (2x, 4x, 8x)
Ambient Occlusion: Enabled, Disabled
Aspect Ratio: 4:3, 16:9, 16:10, 21:9
Brightness: Slider
Display Mode: Fullscreen, Windowed
Dynamic Spot Shadows: Enabled, Disabled
Effects Detail: Low, Medium, High
FOV: Slider
Impact Marks: Disabled, Low, High
Model Detail: Low, Medium, High
Ragdolls: Low, Medium, High
Spot Shadow Detail: Disabled, Low, High, Very High
Sun Shadow Detail: Disabled, Low, High, Very High
Texture Filtering: Bilinear, Trilinear, Anisotropic (2x, 4x, 8x, 16x)
Texture Quality: Low, Medium, High, Very High, Insane
V-Sync: V-Sync Disabled, Double buffered V-sync, Triple buffered V-Sync, Nvidia Adaptive V-Sync, Nvidia Adaptive Half-refresh V-Sync, Dynamic V-Sync
Other PC Features
Uncapped framerate up to 144fps (on a 60hz display with V-Sync Disabled you can run up to 144fps)
Fully remappable key bindings
Mouse acceleration enable/disable
Individual localization audio files to reduce download and installation size
Gamepad support with multiple configs and sensitivity options
Savegame and config stored in the cloud (video and control configs are editable .txt files!)
Voice and text chat in-game and in-Network
Multiplayer anti-cheat out of the box