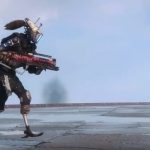 ---
Get an Access to Titanfall 2's New 1v1 Mode by Drinking Mountain Dew!
Respawn Entertainment declared that Titanfall 2 will have a new mode called Coliseum where players will be able to go head-to-head in 1v1 matches. It was also announced that players may get the access to this mode by buying Mountain Dew or Doritos.
There is a short glimpse of the Coliseum mode in the Titanfall 2 trailer here. You can see there two characters that look like robots fighting it out on a map very much alike a sumo wrestling ring. The goal of the match is to conquer you enemy in a best two-out-of-three contest. The winner of that competition will earn "Advocate Gifts," that are rare Callsigns, Camos and more.
Another thing about the new Coliseum mode in Titanfall 2 is that you will need a Coliseum ticket to get entry. These tickets are gained by playing multiplayer, but players also can get them by buying specially marked Mountain Dew drinks and Doritos bags. You can get these tickets from Buffalo Wild Wings promotions as well.
The Doritos and Mountain Dew codes will bring you one Coliseum ticket for Titanfall 2. You will also gain double XP and an opportunity to get Titan personalization items. These items include such things as warpaint and camo or could get you an access to the Ronin Titan.
There was plenty of Titanfall 2 news these days as well. Respawn Entertainment revealed the game's PC system requirements. Moreover, not late ago, our team got an opportunity to check out the rest of Titanfall 2's new Titans.
Titanfall 2 will be released on October 28. It will be available for Xbox One, PlayStation 4 and PC.